Think of all the time you spend in your kitchen. Maybe you spend it at the refrigerator, searching the shelves for a drink or snack. Perhaps you don't cook, but love the smell of freshly baked bread or hearty soup that wafts through the house. These kitchen window treatment tips will help you get the most from your kitchen.
The kitchen should be an inviting and lively place in your home. If you have a window in your kitchen, ask yourself:
Am I happy with the view out this window?
Do I feel bored when I'm in the kitchen?
Do I feel at home when I stand in my kitchen?
Does my kitchen make the best use of ambient light?
Perhaps you have thought about a kitchen makeover but aren't sure how to renovate your windows. If you need inspiration, check out these kitchen window treatment tips for creating an eye-catching window treatment that is a custom fit for your kitchen.
Tip #1: Create an Inviting Old-Fashioned Look with Shutters
Shutters are a great way to add a traditional look to your kitchen. They complement the wood of cabinetry and furniture in your kitchen while blocking unwanted light. Shutters that are partially open let air in while keeping prying eyes out and deflecting wind that could interfere with your cooking.
Tip #2: Craft Your Kitchen's Ambience by Letting in Natural Light
Thin window coverings allow you to control the light levels for your kitchen. Frosted glass and stained glass window elements can shift the color balance of ambient sunlight and set the tone for the room. Curtains with thin fabric let in a soft, diffuse natural light while keeping out glare. Patterned curtains can add more depth to the kitchen scene by casting sunlight patterns on the countertops, appliances, and floor.
Tip #3: Incorporate the Patterns and Textures of Window Covering Fabrics
Take a look at the design scheme in your kitchen. Do the appliances, countertops, backsplash, and decorative items form a theme? Are some colors more prominent than others? Curtains or blinds with a matching color and pattern are a great way to unify the central theme of your kitchen and draw the eye toward the view from the window. Consider cellular shades, with their distinctive honeycomb shape, and other shade types that have patterns in their design.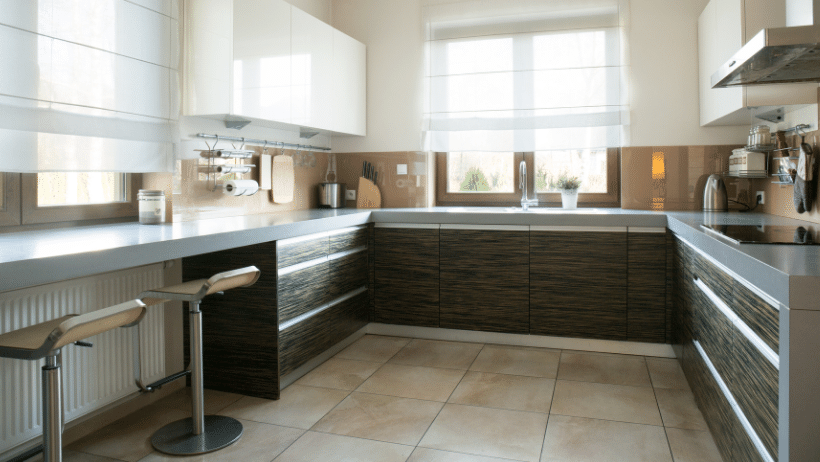 Tip 4: Consider the Convenience of Smart Window Coverings with Motorized Control
When cooking, cleaning, or setting the table, it isn't always convenient to adjust the curtains or blinds. With electric window coverings, you can let more light in or get some privacy with the touch of a button on your remote or phone app. You can open or close the curtains from a distance if you're out running errands or away on vacation.
Tip #5: Use Durable Materials that Can Stand Up to Water and Heat
A window in the kitchen is prone to changes in temperature and humidity, as well as accidental splashes or splatters. Before choosing a window treatment, be sure that it will not suffer permanent damage. Ask an expert kitchen designer how to clean the window coverings and clean them regularly so that they last a long time.
Kitchen Window Treatment Tips in Maui
In Maui's warm climate, open designs that promote airflow can make it more comfortable and convenient to cook at home. Curtains allow you to let in natural light while reducing glare.
Many homeowners in Maui choose an island or water theme for their homes or decorate the walls and countertops with things that are important to them: art, pictures, found objects, and other decorative pieces. Your kitchen can tell a story and evoke the traditions of your parents and fond memories. Use these kitchen window treatment tips to tie the elements of that story together,
Turn to Naka's Drapery for Your Next Kitchen Window Treatment
Naka's Drapery stocks a wide selection of curtains, drapes, and other window treatment essentials. We install window treatments for windows, sliding doors, and French doors.
We put sixty years of experience into custom kitchen window treatment ideas. See the gallery on our website and use our kitchen window treatment tips to inspire your next kitchen remodeling project. Call us today at (808) 353-5060 for a consultation.